Thanks for using Funding Change!
These instructions are for after you have downloaded the Application Package from the fundingchange.ca platform. Click here if you need help finding your Application Package.

In your Application Pack you will find:
Application Letter - this highlights the raffle information from our system that is usually
included on your application
Addendum to Application Class A - a document that the GPEB needs to see that outlines
important information about our system
Draft Ticket - a sample raffle ticket for the regulator to approve
Draws and Prizes - a detailed breakdown of the draws and prizes
Organizer List - the people listed on your organization and assigned a role in our system
Rules and Conditions - a copy of the rules that you entered when you were customizing the
raffle
Terms of Use - a copy of the Funding Change Terms of Use, which forms part of your contract
So what now? Great question! Just two more steps needed from here on in:

1. Follow the instructions on the page below to fill in the pertinent information that is required
to complete your raffle application, which can be found online at:
https://www.gaming.gov.bc.ca/gaming/Home.do
2. If we haven't already been in contact with you to arrange your raffle contract, please email
info@fundingchange.ca or call us at 1-800-480-9737. It will need to be sent to the GPEB before
they will license your raffle but you can submit your application without it to start the process
Notes:
The application letter provided in this package outlines your specific raffle information. It
should be submitted in lieu of filling in the corresponding information on the application to save
you time.

Class A
1. Go to https://www.gaming.gov.bc.ca/gaming/Home.do and click Apply Online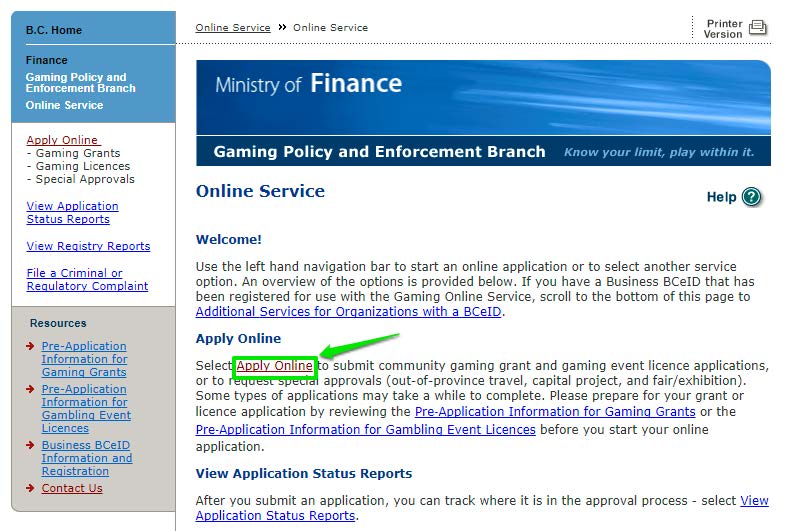 2. Type in your Organization name or your L&G File # and click search
3. If multiple results appear, select the correct one, if your organization does not appear in
the list click new applicant.
4. Complete your organization information. (Name, address, details and programs/services
or purpose) then click next
5. Select License and click next
6. Select Class A and click next
7. Select how you would prefer to provide your constitution and bylaws documents,
Complete the annual general meeting details, Select how organization revenue and
expenses will be submitted, indicate if the process will be used for a major capital
project, provide your gaming account information and click next.
8. Select ticket raffle and click next.
9. Select (Regular Ticket or Percentage Draw) select yes for computerized or electronic
systems and click on the Form – Addendum to Application – WE HAVE SENT YOU THE
DOCUMENT ALREADY FILLED OUT. Click next
10. Enter (draw percentage as generated from our system 50/50 or 40/60 etc), Ticket sales
start date, ticket sale end date, enter ticket tiers and total number of tickets, click add
for each, enter in draw information (date, time, location) click next
11. Fill out use of proceeds and click next.
12. Complete the required information for those running the raffle, instruction at the top,
Complete the preferred delivery method and click next
13. Read and agree to the terms and conditions then click next.
14. Make sure you record your Application ID # as you will need to add it to your Addendum

Once application is submit to the GPEB add your organization name, the date of submission,
and your application ID that is given to you after you have submit to the GPEB.
Add the Addendum and the signed Funding Change contract to your Application Package. Send
this off to the GPEB and make sure you mention your Application ID in the Subject line.